A familiar site around Disneyland is the popcorn cart, which sells Orville Redenbacher's ® Gourmet Popping Corn and soft drinks. Each cart has a miniature figure that tirelessly rotates a cylinder of popcorn, giving kids (and adults) something to look at while they're waiting in line for popcorn. The appearance of each cart is tied to the theme of the Disneyland region in which it's located, with details such as coloring, roof design, price placard and miniature figure unique to each cart.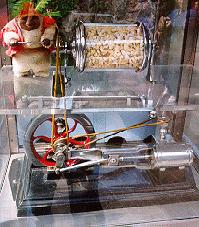 Each popcorn cart figure appears to be working a "steam engine" (left) to manufacture the popcorn. Seven of the nine popcorn carts are usually in service, with POP 7 and POP 9 used only on the busiest days. POP 8 has been retired from its former location in Adventureland.
Click on the Map button below to access views of individual popcorn cart figures at Disneyland:



Recently, some of the popcorn carts have been renumbered or reassigned. POP 9 replaces POP 1 in Town Square and POP 1 replaces POP 4 in the Central Plaza. But the map above shows the original locations of these carts.
Other recent changes include the Invisible Popcorn Figure seen in a popcorn cart (right) in Fantasyland. Or is the ferocious Abominable Snowman just in for a cleaning?


---
Copyright © 2007 Balmoral Software. Portions copyright © 2007 Disney. All rights reserved. Republication or redistribution is expressly prohibited without prior written consent of Balmoral Software.